About Cackler Farms Trees & Greenery
From our family farm to your family tradition

Trees

Greenery

Directions
From our family to yours — Come on down and visit us at the farm
It all started in 1989 when our dream took "root" and we began planting the first trees here on the farm. Our goal was to provide a way to finance our children's college education that they could be a part of. Today the 5th generation of the Cackler family now lives on the farm and it is truly a family affair.
There is something special about the memories created here. We see more and more families making our farm a part of their Christmas tradition and we're honored.
We look forward to welcoming you to the farm!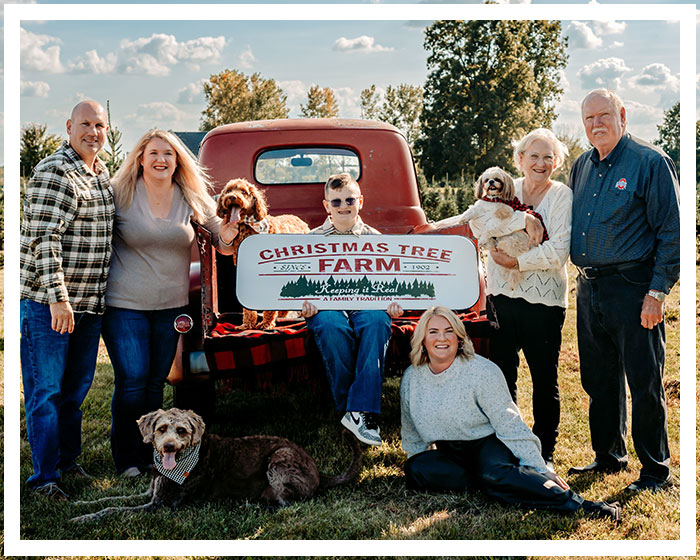 Ohio Christmas Tree Association
The OCTA is a non-profit organization made up of Christmas Tree growers across the state. OCTA sponsors activities and programs that help Christmas tree producers achieve success in plantation management and small business creation, promotion and development.
Ohio Farm Bureau
The Ohio Farm Bureau is a grassroots membership organization that works to support Ohio agriculture and the state's food and farm community. Their mission is to focus on working together for Ohio farmers to advance agriculture and strengthen our communities.
Mid-America Christmas Tree Association
The MACT provides members with the most up-to-date information on techniques, tools, resources and ideas related to the Christmas tree industry in their state as well as other states, and provide them with an annual trade show for the largest assemblage of Christmas tree growers and vendors in the Midwest.
Our Mission
We are committed to making your visit to our farm enjoyable and to help you have the best possible experience.
And to create a lasting family tradition of celebrating Christmas year after year with a "real" Christmas tree.
Cackler Farms Photo Gallery
Enjoy our photo gallery of activities around the farm, people partaking in family tradition, and our fury friends. Maybe you'll find a picture of you and your family.